Reblogged from GeekToGeekMedia.com!
Super Mario is as recognizable as Mickey Mouse, Darth Vader, or Batman! Nintendo's mascot first debuted on the original barrel-hoping 'Donkey Kong' arcade game way back in 1981 – where he was simply known as "Jumpman". Mario was created by the amazing Shigeru Miyamoto (aka the Stan Lee of Nintendo games) who also helped create Star Fox, Pokémon, and even the Legend of Zelda! Since then, this mustached Italian plumber-turned-savior of the Mushroom Kingdom has gone on dozens of adventures over the years (most of which include repeatedly rescuing Princess Peach from the clutches of the evil King Koopa, Bowser).
1985's Super Mario Bros for the NES (aka the Famicom back in Japan) made him and his brother, Luigi, an instant sensation around the world! In fact, he's appeared in well over 200 games in the past 41(?!) years, including, but certainly not limited to Wrecking Crew, Mike Tyson's Punch Out, Yoshi's Island, Wario Land, Luigi's Mansion, Dr. Mario, Mario Party, Mario Strikers, Mario Tennis, Mario Golf, Paper Mario, and the incredible Mario RPG: Legend of the Seven Stars!
For this year's "Mario Day" (Mar10), we thought we'd take a moment to point out some awesome games worth playing that are all available on the Nintendo Switch! (Quick honorable mention to "Mario 35" which was amazing, but was sadly had a limited time run back in 2020)
1. SUPER MARIO BROS (NES, 1985)
Is there anything more iconic, more recognizable, or more nostalgia-inducing than the original 8-bit classic that is Super Mario Bros? While it's not the first game to feature Mario (or his green-clad brother), this is the one that set the standard. And not just for the franchise to come, but for the entire genre of side-scrolling platformers. From the simplistic (but challenging) level designs to those incredible 8-bit tunes by Koji Kondo, it's easily one of the most famous video games in history, and still absolutely holds up today! (Available on the Nintendo Switch's Online Virtual Console, along with the other retro titles on this list)
2. SUPER MARIO BROS 3 (NES, 1988)
As great as the original Super Mario Bros is, it was Super Mario Bros 3 that perfected the formula. Building off of everything that was awesome about the first game, this one gave us even more: themed locations, an overworld map, boss fights, better graphics, better music, more power-ups, way more enemies, and waaay more levels! Considering what they were able to accomplish with such limited hardware, this game is incredible, even by today's standards.
3. SUPER MARIO WORLD (SNES, 1990)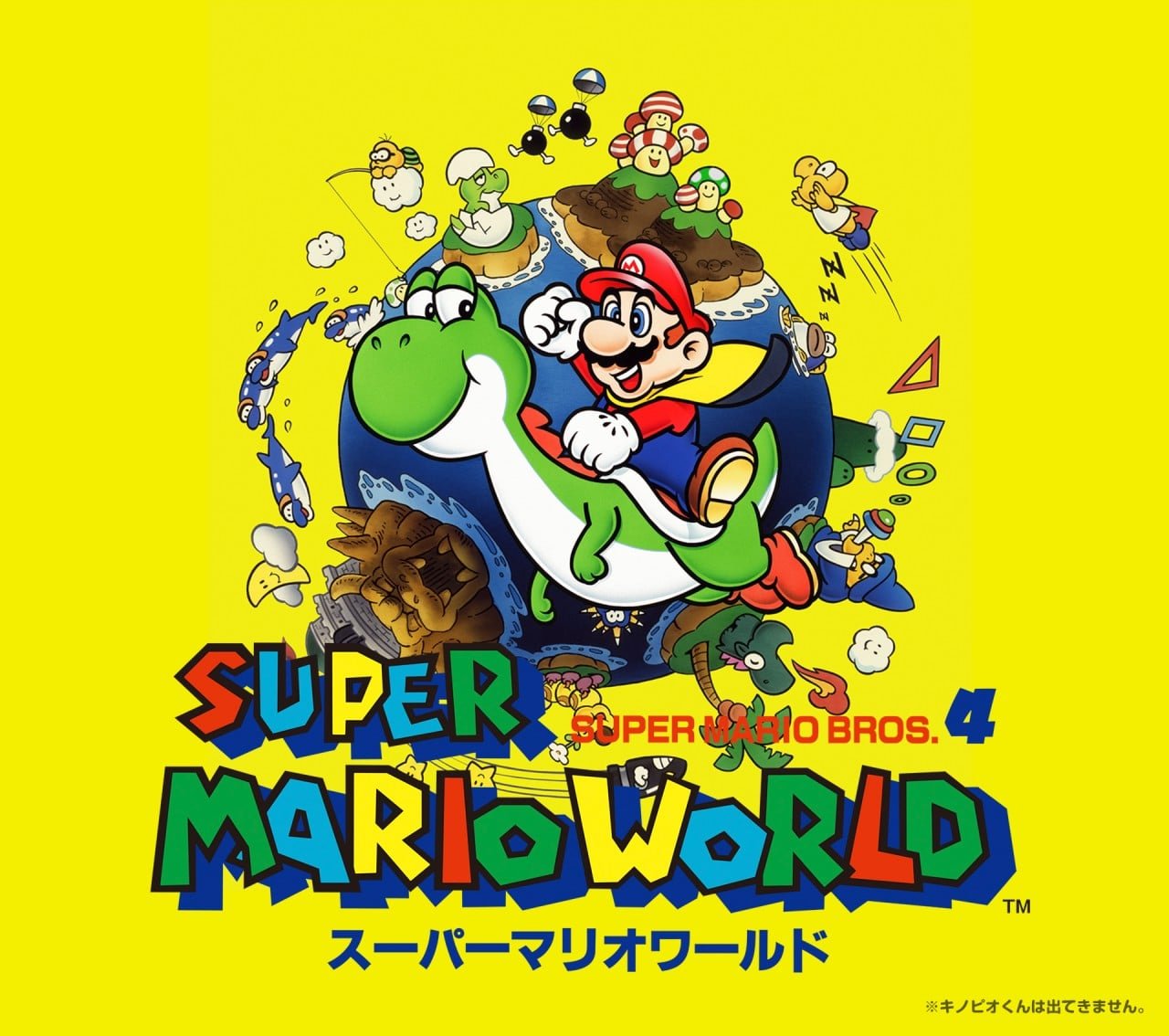 Arguably the best Mario game ever made (it's usually between either this one or Mario Bros 3), Super Mario World debuted in North America on the brand new Super Nintendo (the US version of the Japanese Super Famicom) back in 1990 and quickly became a massive success! This one has pretty much everything that was great about the last game, but it builds on it and refines it to create a masterpiece with better / smoother graphics, music, and gameplay mechanics: a bigger overworld with interconnected regions, and non-linear paths, more levels, dozens of more enemies, unique and clever boss fights, and a handful of the hardest platforming levels in gaming (I'm looking at you 'Tubular'). But the element that really pushes this one over the edge for me is the inclusion of Yoshi!Trending5 Amazing FREE D&D One Shots Money Can't Buy
4. SUPER MARIO ALL STARS / THE LOST LEVELS (SNES, 1993)
As a kid, I was obsessed with Super Mario All-Stars! For those that don't remember, or weren't around in the early 90's, Nintendo released a compilation of all the original NES Mario games that you could play on the SNES! Not only that, but they updated the graphics (and even the music) to the 16-bit standard! And to top it off, the game included something titled Super Mario: The Lost Levels, which was actually the unreleased *Japanese version* of Super Mario Bros 2! For those that don't know, the original version of SMB2 was actually just an expansion pack to the original SMB game. It had the same style/graphics, but was a thousand times harder!
The Super Mario Bros 2 that we got in the states was actually a reworked version of a game called Doki Doki Panic with Mario assets, which was still an awesome game in its own right but was very different from the rest of the early Mario titles. The Lost Levels is easily the toughest Mario game (besides some truly hellish levels created by fans on Super Mario Maker) – it's unforgiving and constantly trolls the player with poison mushrooms, impossible jumps, invisible blocks, and even warp pipes that go backwards! Like Zelda II, this was an 8-bit Dark Souls that is absolutely worth revisiting as an adult.
Another cool aspect of the All-Stars version of this game though is all the colorful new parallax scrolling backgrounds and remixed versions of the classic Mario Bros themes that now have a tropical steel drum influence to them! I was ecstatic when Nintendo finally released this SNES title to their Switch Online service.
5. SUPER MARIO 64 (N64, 1996)
When the Nintendo 64 hit shelves, it felt like the dawning of a new era. This was the first 3D Nintendo system and it was mind-blowing how much of a leap it was from the SNES! And of course, once again, the flagship title was a Mario game: Super Mario 64. Is this the best Mario game ever? No. Did it have the best graphics? Not exactly. Was it groundbreaking for the time? Absolutely. While it's a little clunky from a modern perspective, this game set the standard for what 3D gaming could be. It established a lot of the basics that we take for granted now, like camera/perspective controls (which The Legend of Zelda: Ocarina of Time would go on to perfect). It was also a darn good game.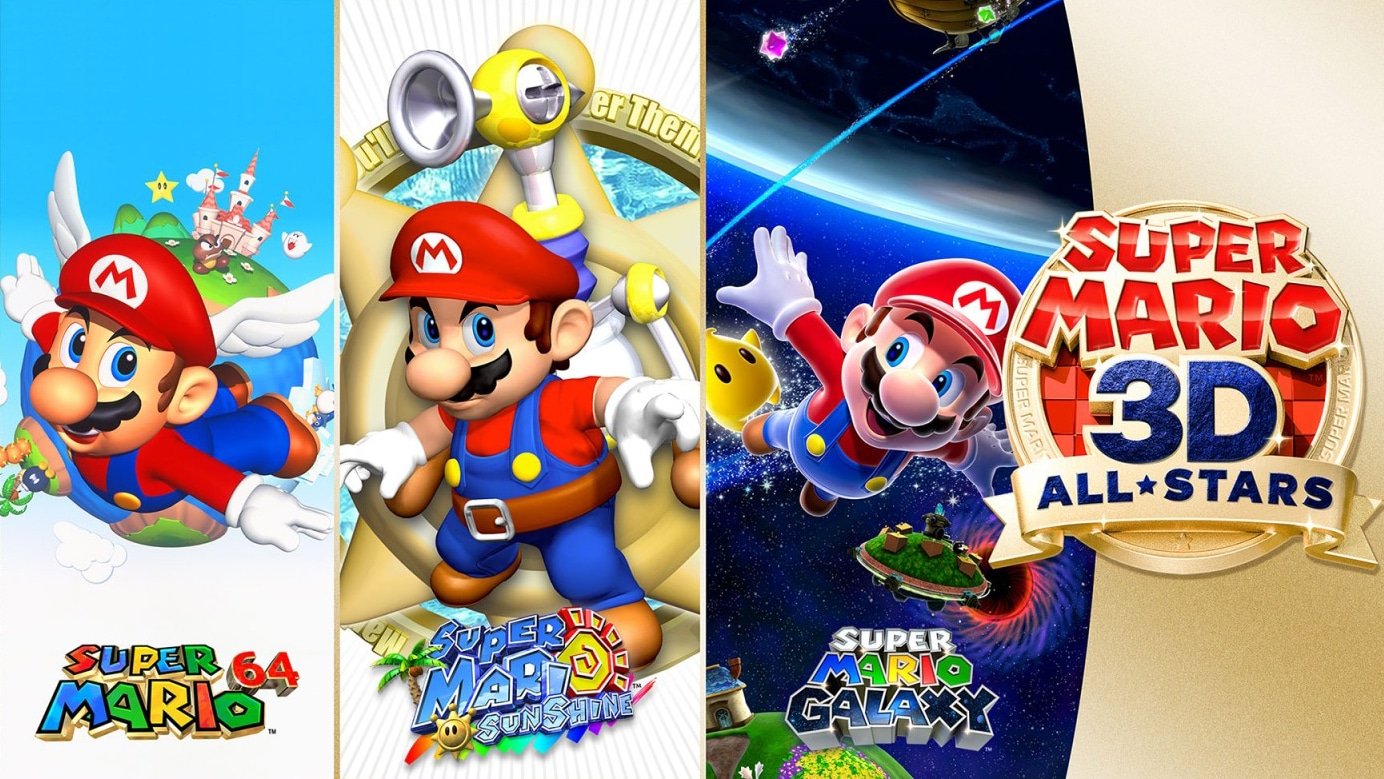 I still personally prefer the retro 2-D side-scrolling Mario games myself, but this one was undeniably a solid entry in the series, and at the time, we'd never seen anything like it! And once again, it had an incredible soundtrack composed by the insanely talented, Koji Kondo! The N64 went on to produce some of the most memorable games of the '90s: The Legend of Zelda: Ocarina of Time, Majora's Mask, Banjo-Kazooie, Pokémon Snap, F-Zero X, Star Fox 64, Goldeneye, and the next one on our list…
6. MARIO KART 64 (N64, 1997)
1997 felt like a magical year, between this game and the re-release of the Star Wars movies in theaters, it was childhood defining. I was already a fan (still am) of the original SNES Super Mario Kart, but there's no denying that Mario Kart 64 was the superior game. We've had A LOT of Mario Kart games since this one, but I would argue that even the newest game (Mario Kart 8 Deluxe on the Nintendo Switch), which is an incredible game as well, is still a step down from this one.
Sure, it's probably the nostalgia talking, but there was just something about those cutting-edge graphics, those sharply designed tracks, and all the catchy jingles that just stayed with me, like the dreaded blue shell that haunts my nightmares. Back before online gaming was the norm, my friends and I would play 4-player split-screen for hours on end, and it was always either this one or Goldeneye. And I'm happy to report that this is still a fun game today!
7. SUPER MARIO ODYSSEY (Switch, 2017)
The latest in a long line of 3D Mario adventures, Super Mario: Odyssey is a must-play game for any fan of the series! In this globe-trotting adventure, Mario must (once again) save Peach from Bowser, before he… marries her?! The unique environments are really cool and the graphics at times are breathtaking, and the game's challenging without being frustrating. Building off of elements from the Game Cube's Super Mario Sunshine and the Wii's Super Mario Galaxy, Odyssey is a fun romp with some really goofy mechanics, but it totally works.
8. SUPER SMASH BROS ULTIMATE (Switch, 2018)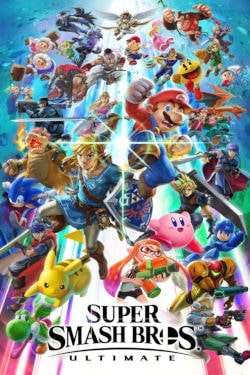 While the original Super Smash Bros for the N64 back in 1999 was a… um, smash hit at the time, bringing all the major Nintendo characters together for a no-holds-barred over-the-top fighting game, every subsequent Smash Bros game has really elevated the series, and the newest one is no exception. While some argue that Super Smash Bros Brawl on the Game Cube is the best one, the Switch version (Super Smash Bros Ultimate) is everything I've ever wanted from this totally bonkers franchise. It's got the biggest roster in fighting game history with 89 playable characters (!!!) from several franchises, including, but definitely not limited to: the Super Mario Bros, Sonic the Hedgehog, The Legend of Zelda, Metroid, Kirby, Pokémon, Pac-man, Mega-man, Fire Emblem, Star Fox, Donkey Kong Country, F-Zero, Final Fantasy VII, Earthbound, Kid Icarus, Ice Climbers, and even Street Fighter!
9. SUPER MARIO MAKER 2 (Switch, 2019)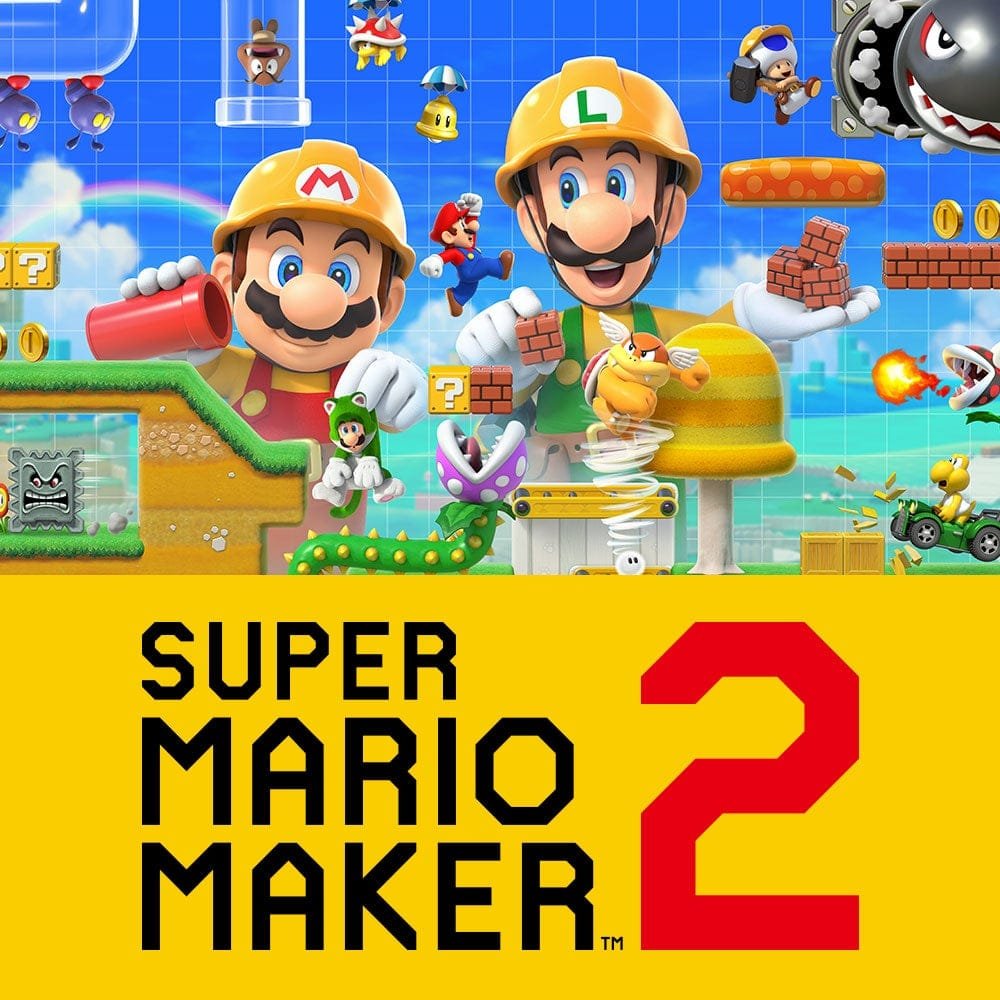 While the first Super Mario Maker on the Wii U was probably the game I played the most from 2015 until 2019, Super Mario Maker 2 has almost everything that I always thought was missing from the first game! If (like me) you're a fan of the original side-scrolling platformers of the '80s and '90s, and always thought it would be cool to get more of those, or better yet, make your own – this is the Mario game for you!
Not only does the game allow you to show off your creativity by designing your own Mario levels, but you can also upload them online and even play other players' levels! And if that's not enough, you can choose from different game styles to design in, including the classic 8-bit Super Mario Bros, SMB3, Super Mario World, and even the newer 3d version as seen in New Super Mario Bros U: Deluxe – each with their own unique mechanics, enemies, and special items!
It's a lot of fun, and probably has the most replay value of any game on the Nintendo Switch! (except maybe The Legend of Zelda: Breath of the Wild)
10. SUPER MARIO 3D WORLD + BOWSER'S FURY! (Switch, 2021 / Wii U, 2013)
The latest Mario game to come out on the Nintendo Switch (at the time of this blog post) is the re-release of Super Mario 3D World – which first came out on the Wii U back in 2013, and I'd argue is probably the best game from that system (besides maybe Super Mario Maker). It's a super fun 3D platformer that really emphasizes multi-player co-op and really harkens back to the coin-collecting, fast-paced fun of the old school titles on this list, but with better graphics, 3D environments/puzzles, and some new power-ups like the ice flower, and a catsuit that allows you to climb walls!
The new version of the game is also paired with a brand new game called Bowser's Fury where Mario has to team up with Bowser Jr to save Bowser and the Mushroom Kingdom from a black sludge that infects everything it touches, creating a darker and more powerful, Kaiju-sized version of Bowser!
What's your favorite Mario game? Let us know in the comments below!
For more Nintendo series overviews, check out my 10 Must Play "Legend of Zelda" Games, and my recap of the Metroid Timeline! Also, be sure to check out my latest podcast, "The Super Switch Club: A Nintendo Podcast"!
Super Mario will be hitting the big screen later this year in an all-new animated movie from Illumination, starring Chris Pratt!